HubSpot Theme
Business Lite Theme for Business Websites
Includes 20 modules and 20 readymade templates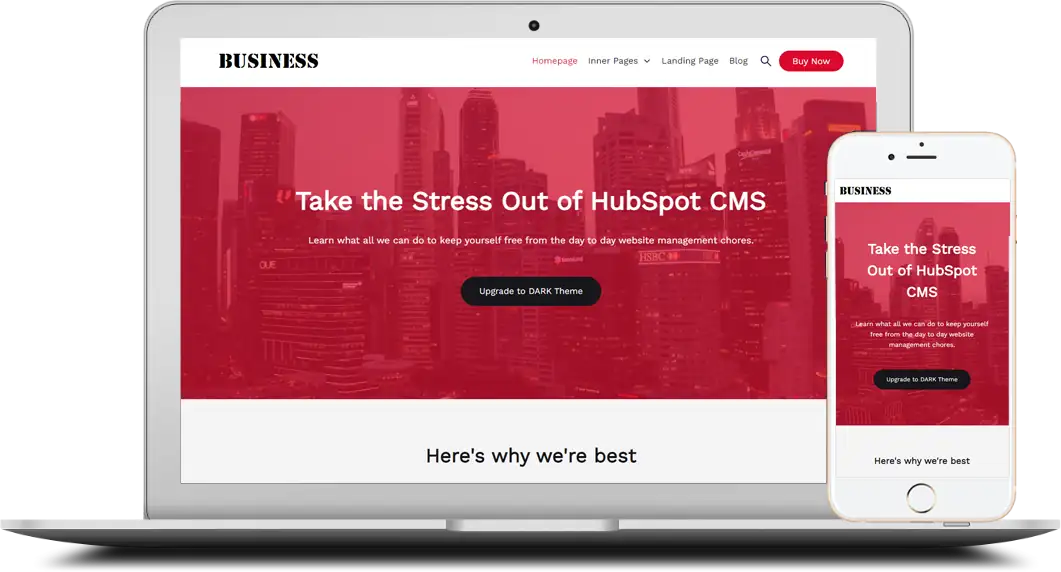 Some of Our 2,000+ Raving Clients
We Know HubSpot Well
We started as a Team WordPress but recent updates in HubSpot CMS are fasinating,
making it our top recommendation for businesses.

HubSpot CMS for Developers

HubSpot CMS for Marketers

HubSpot Content Marketing

HubSpot Contextual Marketing

HubSpot Growth Driven Agency

CMS Hub Implementation

HubSpot SEO Certification

HubSpot Social Media Marketing
Our HubSpot Theme Reviews
Our HubSpot themes have been getting average five star reviews all over.
Read them all by yourself.

"Dark theme is a great modern theme with most of the essential building blocks needed for a landing page. The developers are also extremely responsive and helpful with questions and troubleshooting."
"Many HubSpot themes are difficult to customize and manipulate. The dark theme and the team behind it make it very simple to make custom changes to fit your needs. They understand the HubSpot CMS very well."

"Theme offered a foundation to start with as well as customize quite a bit. When I became more versed with using HubSpot's Landing Page modules and more adept at building and designing the page, DFT was easily adoptable. In the future, I would like to see more module designs added to it."
Business Lite Theme Features
Try our Business Lite theme to quickly develop the HubSpot website you need.
Checkout these features to know all about it.
Complete
Drag-n-Drop
Don't worry about coding or relying on someone else to do it for you. Business Lite Theme is built using 20 powerful drag-and-drop modules that enables users to quickly create landing pages and website pages.
20 Pre-made
Templates
20 Pre-made templates included with the Business Lite theme can be used to create a webpage in an instant and with ease.
Superfast
Performance
Business Lite templates scored over 90% score when tested on GTMetrix test, achieving the top-notch A grades score.
Fully
Responsive
Your website looks great on both desktops and mobile devices because it's responsive by nature. Suitable for both small and medium screens.
There's a Module
for Everything
Our pattern library makes it easy to source the right module for whatever you're creating. Pick your category, pick your module, and you're on your way.
Customisable via
Theme Settings
Theme Settings available in the Business Lite theme helps you to control and adjust colors, fonts, and button styles for the pages you have created using the templates.
Watch and Learn How FThemes have helped
Businesses of All Size
Business Lite

Theme Screenshots

Checkout these screenshots of our Business Lite website theme to see how gorgeous it looks in its demo.
Of course, you can customise the font, color scheme, and media files to make it ready for your business requirements.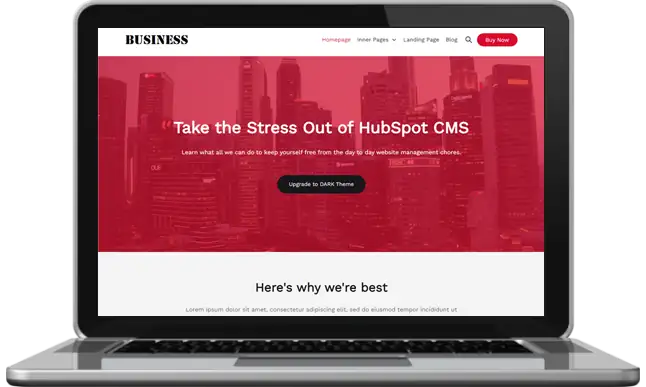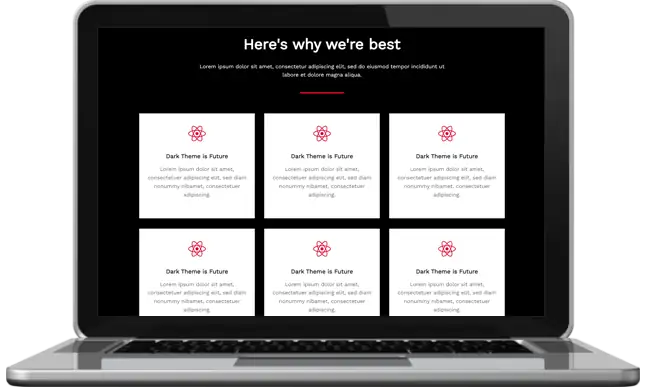 Business Lite Feature Set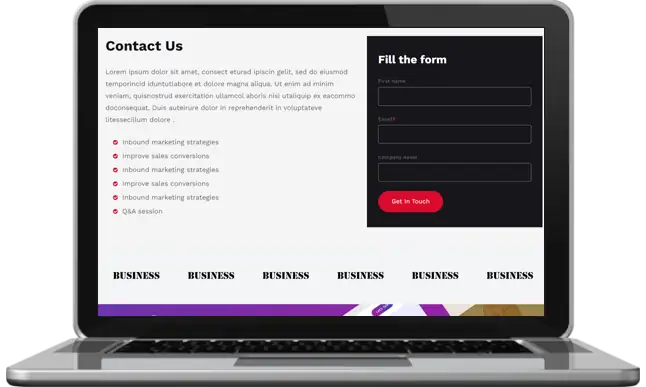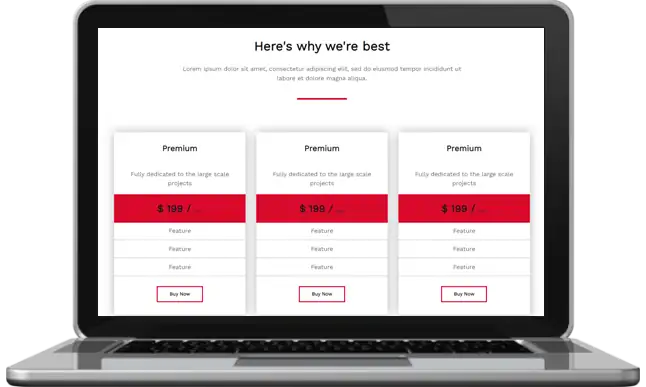 Business Lite Plans Pricing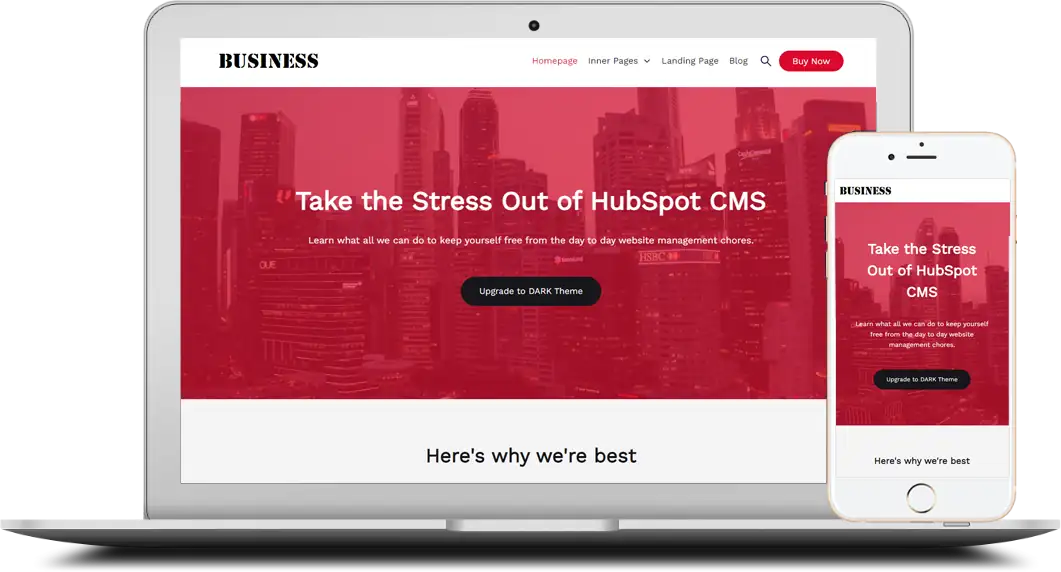 Business Lite for Business Websites
You're getting premium looking HubSpot Theme for any Business website. Business Lite theme includes:
Includes 20 modules and 20 readymade templates

Fully Responsive

No code required, Complete Drag-n-Drop
It's Always a Better Idea to Go for Premium Themes
Checkout our premium HubSpot themes. Upgrading to either of these is always a better idea
than going for a free theme. After all, your business website is your first salesperson.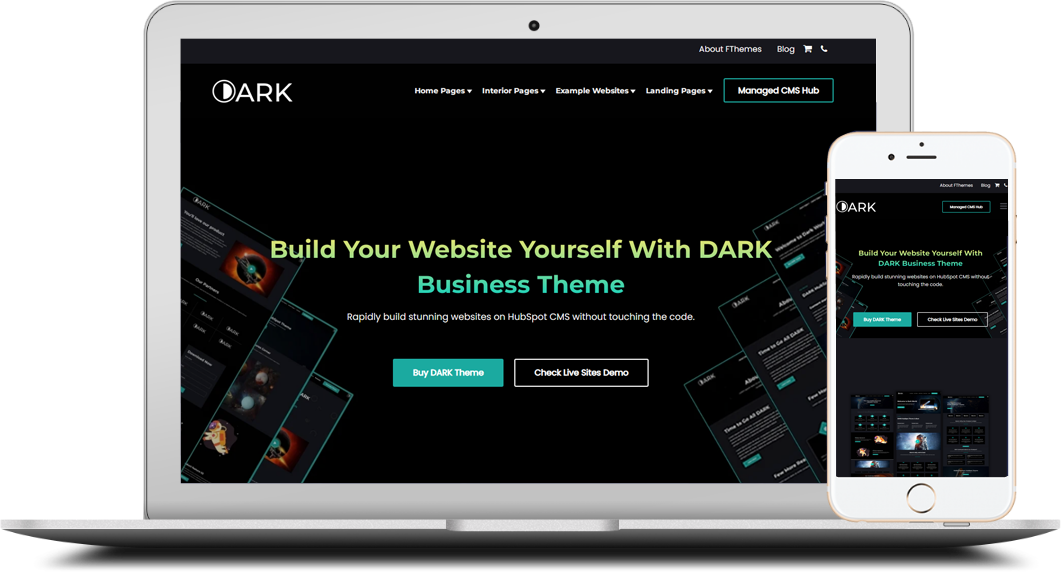 DARK Business HubSpot Theme
Stop editing HTML/CSS files and save up to $10k by instantly creating premium looking fast website pages yourself. The gradient touch on elements with dark color scheme will make your website stand out from rest of the competition.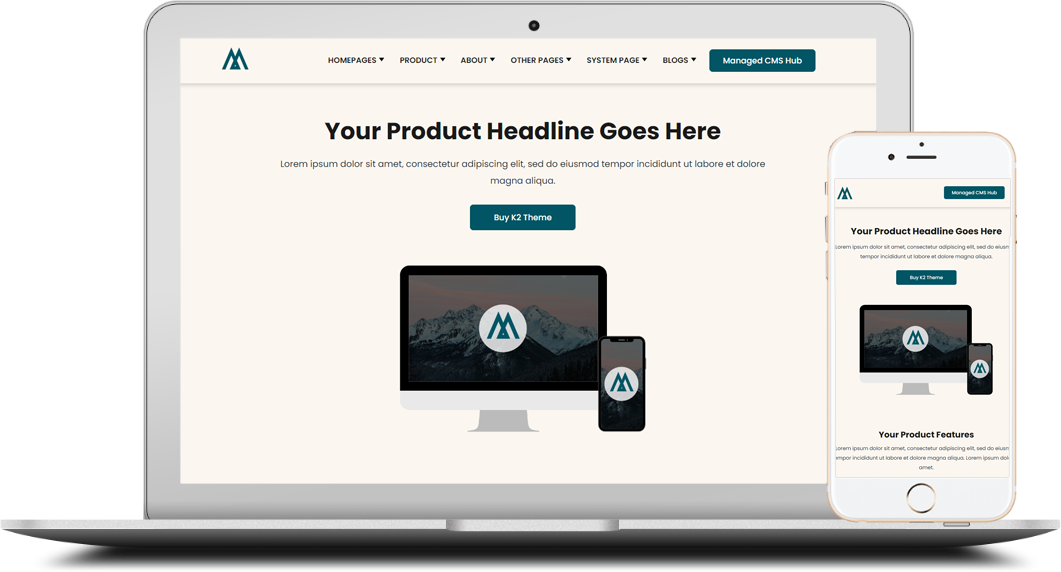 K2 Multipurpose HubSpot Theme
Save up to $10k with Most Value Packed theme: Multipurpose, Minimal and Mobile-First Theme. K2 Multipurpose theme is designed with Mobile-First approach. The performance is top-notch and it's designed to create websites of any industry.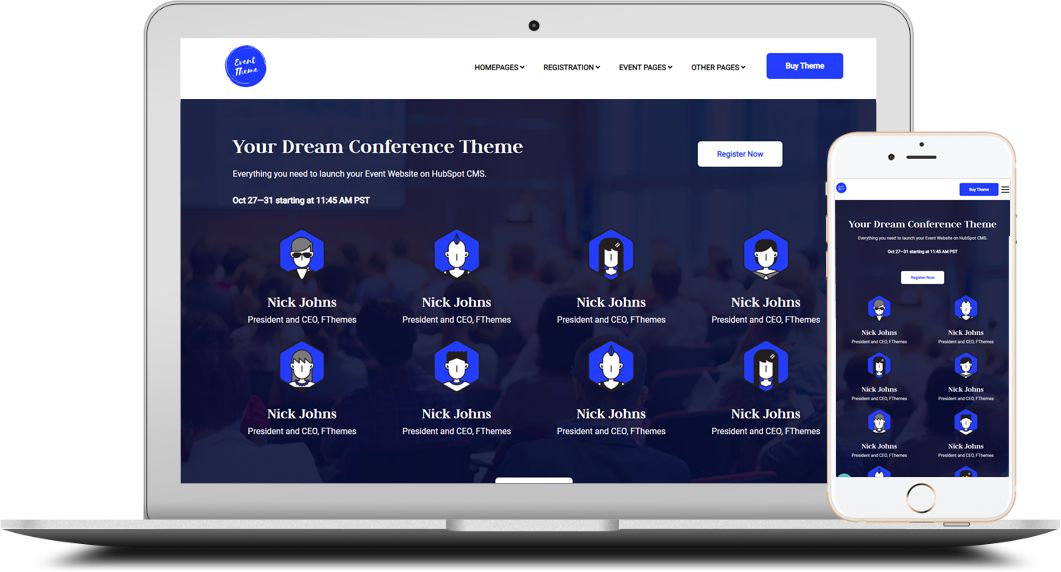 Event HubSpot Theme
Here is the first HubSpot Event theme. Our Event theme for CMS Hub packs everything you'll need to quickly launch your webpage for event/conference.
Where can I get free HubSpot CMS theme?
Look no further, as FThemes is offering a no strings attached, completely free HubSpot business theme.
Is there any premium version of this free HubSpot theme?
Yes, we have premium version of this exact theme which comes with more modules, more readymade templates, better performance and our premium support.
How to install free HubSpot business theme from FThemes?
Our free HubSpot business theme is available at the official HubSpot theme marketplace. You can simply install this theme from there.
Does your free HubSpot website theme comes with free support?
Yes, a basic level of support is always available with our free theme. If you're looking for a premium support, we recommend buying our premium offerings at the marketplace.
Is this theme safe to use?
Well, if you don't trust us as of now, would you trust our theme if it was checked and approved by official HubSpot marketplace team?
Yes, our themes are approved and published at official marketplace. So, you can trust our themes.